2014年12月[Part.4]
Just passed the Thanksgiving, it is now Christmas season and it is getting colder and colder in Boston.
My labmate Micheal invited some other friends and me who were 'homeless' during the Thanksgiving, to join his family for the traditional American Thanksgiving. His parents started preparing the feast the day before Thanksgiving, and the food were so delicious. It was also my first time to see that huge turkey, it tasted really good. After enjoying the meal, we talked and played card game called 'In a Pickle', it was a fun game and it was also an interesting English class for me who speaks English as a second language. I really enjoyed the party and appreciate the kindness of Micheal and his parents.
---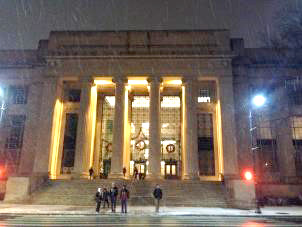 At the beginning of the December, we were happy to see that Chen sensei came to visit us in MIT during her stay in Boson for MRS, she brought the cakes from Sendai for us, I really liked the cake. When I go out of the Sendai, I bring the cake as souvenir for people, finally I had the chance to taste it and it was really good and reminded me a lot about the Sendai. We also shared them with our friends here in MIT, they also thought they were so tasty. Thank you so much, Chen sensei, for coming visit us.
---
On last Friday, our professor Polina also hosted a Christmas party in her house, it was a potluck, and we showed up with the dishes we cooked. Party in her house is rather informal so we just ate and talked, it was a very western style party, a bit different from Japanese lab party, also we don't drink that much.
---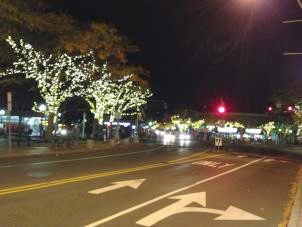 It is Christmas season; a lot of decorations are in the shops, street and university. Even though I still believe that there still would be people who work during Christmas in MIT, it is a season that students can take a break from work officially for like two weeks. I will have a packed surgery implant in the next week, so I will be busy within the next week. Afterwards I will take a break. My friend will come to visit me during the Christmas and New Year break, so we are planning to go around in Boston and celebrate the New Year here.
---
PROFILE:

名前:郭 媛元
学年:D1
専攻名:医工学研究科医工学専攻
派遣期間:2014.9.15~2015.1.31